HELPING HEAL PEOPLE ALL OVER THE WORLD
ONE DOG AT A TIME
The founders of Golden Healer Service Dogs started out breeding and training Labrador Retrievers for pet families over 25 years ago as a hobby. In 2014, while searching for an American Golden Retriever, they stumbled upon the English Cream Golden Retriever. Due to the amazing temperament and disposition of the breed, they knew this was the right direction to take as they considered providing service dogs. They purchased their first male and female and started breeding for puppies.
Over the past few years, they have placed several of their puppies in homes that have gone on to be trained as service dogs. Through this experience and seeing how impactful and rewarding it was to change someone's life through their dogs, the idea was born to make it their full-time mission.
Golden Healer Service Dogs has teamed up with some of the best breeders, trainers, and dog professionals, in the world. It is our goal to produce, develop and deliver the finest service dogs to anyone that suffers from mental illness or physical disabilities.
We develop our service dogs from puppies to ensure that they have been raised in the best environment and have solid foundations. This allows us to have a higher success rate when it comes to placement as a working service dog.
The Right Dog. The Right Solution.
There are three types of working dogs available to people with disabilities. At Golden Healer Service Dogs, we strive to educate the public on these types of dogs as well as who should have one.
Service Dog
Service dogs are specifically trained to perform a task for a person with a disability such as visual or mobile impairment, diabetes, or seizures.
Emotional Support
An Emotional Support Animal (ESA) provides support, well-being, comfort, and aid to an individual through companionship and affection.
Therapy Dog
Therapy dogs are trained to provide affection, comfort and support to people in facilities such as hospitals and retirement homes.
Meet Your New Best Friends, Our Gurus.
Doré founded Horizon Family Solutions in 2001 and Troubled Teen Help / now know as Finding Next /MyNextSearch.com in 2004.
She oversees the company's growth strategy and continues her work as an Advocate and Educational Consultant as well as a Marketing strategist. Doré assists with and provides case management, crisis intervention, and educational planning for adolescents and young adults.
She has a Doctorate of Applied Human Development in Child and Family Development / Clinical Psychology from Pacific University and a Bachelor of Science in Human Services from the University of Phoenix.
Dore earned a Certificate of Appreciation on behalf of Pathways Core Training, Inc. – Teen / Family Camp – 2009 & 2010 and an Achievement Certificate of Appreciation on Behalf of Abused & Neglected Children – C.A.S.A. of Deschutes County – 2006, 2007 & 2008.
Doré has also held board positions with Within a Seed Foundation in Utah, Proficio Management in Utah, and was the Executive Director of the Board for Positive Directions Foundation in California.
Doré resides in Colorado and came across Golden Healer Service Dogs in December 2018. She was in search of a service dog and made her choice in January 2019. Aspen was born in January 2019 and now resides in Colorado. Dore then choose to be a part of the mission of Golden Healer Service Dogs as one of our founding board members. Doré would like to raise awareness of the services that Golden Healer provides all across the United States and internationally.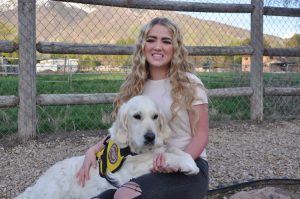 Ashlun has been an animal lover since the time she was born, and she especially loves dogs. Ashlun is currently working on her Bachelor's degree in Psychology and has been volunteering as a kennel tech and puppy trainer for the past 6 years. Upon graduating, Ashlun plans to open her own practice and work with children and youth that suffer from Mental Illness.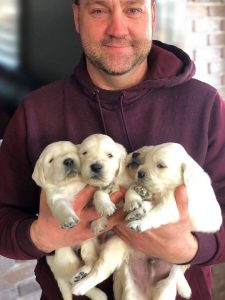 Mike is an Animal Behaviorist, Animal Caretaker Coach, Dog Handler Coach, and Dog Trainer.
Our puppies are born and raised inside our home. From day one, they are held, loved, and played with by our family and children. They have been socialized with small children and various animals and are amazing.
English Retrievers are known to do great with children and will become part of your family for many years. They are sensitive, loving, devoted, and willing to serve. They make wonderful companions for the whole family. Our puppies have the ability to work in therapy or as service dogs as they are extremely gentle and intelligent. They can be trained to work with individuals that suffer from autism, anxiety, depression, or other mental health related issues.
OUR SPONSORS
We are always excited to work with our sponsors and add new ones.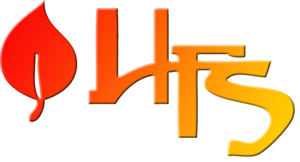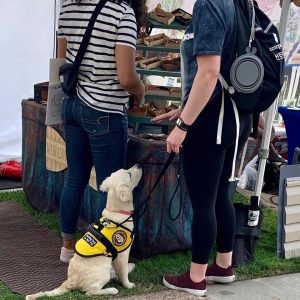 Would you like to get involved?

We are always looking for puppy raisers, puppy sitters, and individuals who would like to donate their time and talents to help our organization and fundraising efforts.